For all of us, there's one part of the day that's our most favorite. I don't know about you, but for me it's that time when I finally dip into my bed, after a long day of tiresome work and tolerating people. Oh! The feeling of your soft and comfortable bed and those plush and bouncy pillows.
Is there anything in this world this perfect?
I bet there isn't.
I know all of this sounds very peaceful; however, you would only be able to experience this feeling when you have the best bed linen in the world. One that guarantees you an undisturbed and pleasant slumber.
Well, flatten those stress lines on your forehead, because Ideas Home brings you bed linen with comfort and solace unmatched to any other brand in the country. Quality sheets are key to a good night's sleep. After all, you don't want to lie on something that is scratchy or itchy and that ruins your sleep. Ideas Home has bed sheets that are made of 100% cotton, made out of high-quality cotton yarn, ensuring you a smooth and soft sleeping experience.
Moreover, the expertise of the brand does not just lie in quality, but it also excels when it comes to appearance. These sheets by Ideas Home are extremely beautiful with both its vibrant and subtle tones. Wait! It does not end here. You can now buy your favorite bed sheets from Ideas Home at fantastic discounts up to 50% off.
Here, I have lined up some sheets for you from the sale that would be perfect for the festivities and celebrations in order. Let's take a look!
1. Revitalize your bedroom
Looking forward to giving your bedroom a new and fresh look this summer? This multi-colored floral bed sheet should be your perfect choice. The sheet has a cheerful and happy vibe to it, bound to give your room the same feel. All your summer mornings are guaranteed to be fresh and optimistic with this sheet on your bed!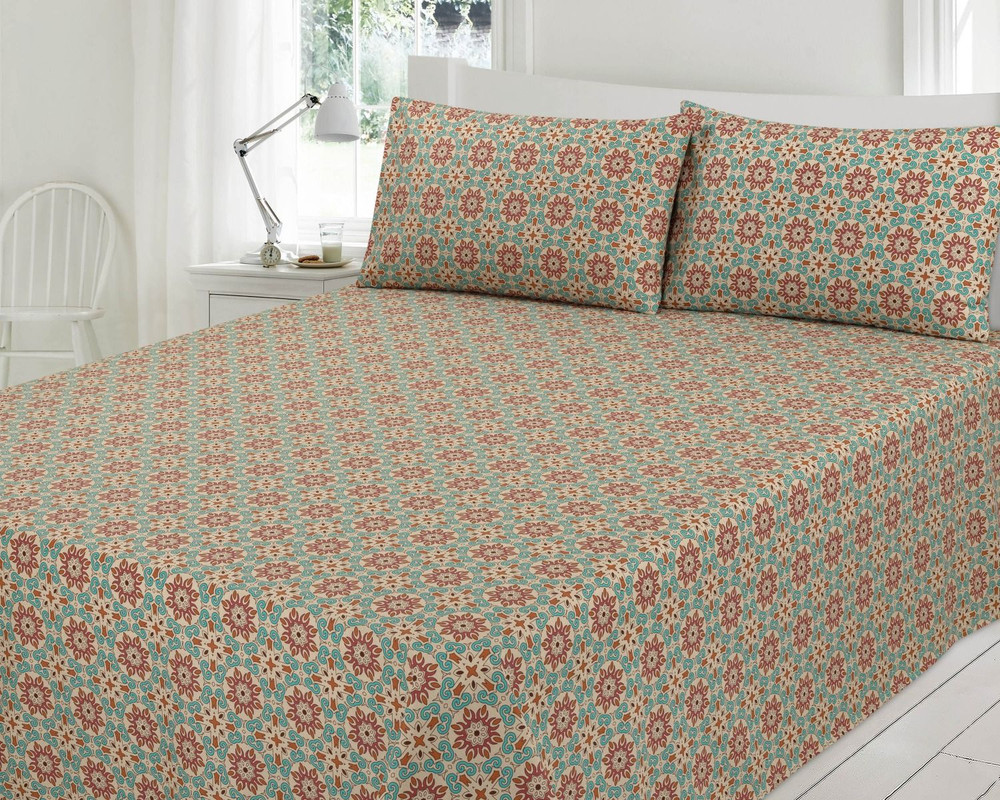 2. Simplicity is the key
If you're someone who is big on simplicity and austerity, this subtle-printed dove grey sheet would hit you right in the feels. The unique color along with its minimalistic design would add the right amount of elegance and sophistication to your room, the two best things you need to show off this festive season.
3. Jazz up your room
Some days of the month when we are the least stressed and the happiest, all we want to do is climb on the bed and shake a leg. This bed sheet is made for all those moments. Exuding fun and peppy vibes, the sheet along with features like comfort and durability is a must-have for your bed linen closet. Along with the unique black and white geometric prints, it's the splash of vibrant colors towards the hem of the sheet that's the real star.
4. The royal vibe
Exclusivity never hurt anyone, right? This Eid, along with your looks, add class and panache to your bed as well. This soft pink bed sheet features an elite print, giving your bed room a bourgeoise look. And guess what cost does it come at? Just 1000 bucks! Yes, you heard it right.
5. Bold n' vibrant
To be honest, being a true desi at heart, I love to give my bedroom a colorful and vibrant look. And, I do that by opting for dark and bold colors. For my bedroom this season, I would definitely choose this dark blue bed sheet from Ideas Home. If the interiors of your bedroom are light, this bed sheet would perfectly compliment your room.
6. Soft tones and light hues
The hit combination of black and grey has been successful in creating its magic again with this bed sheet from Ideas Man. Boasting of an eccentric design, the bed sheet would be a soft rendition to your room. With matching curtains and cushions, your room would become the perfect resting ground you need after all those exhausting dawats.
7. Sweet pink blossom  
This summer blossom in all the shades of pink. The color of the sheet along with the floral print would add a lot of sweetness and tenderness to your personal space. For me, this sheet is perfect to give your room the ultra-feminine vibes you need.
Now that your bed sheets for the season are sorted, it's time you stop procrastinating and start doing. Visit your nearest Ideas store or website right away and drop your favorites into the shopping cart! Trust me, you don't want to miss this sale.