Our favorite time of the year is near.
Yes, Eid is coming.
I think my sweet tooth might already be on its way back to me. The aroma of sheer khorma and garam garam gulab jamum. Hey, I am a foodie and Eid is about food... and fashion. Eid ul Fitr is a special time. It's a celebration of "new you" . So let's cut to the chase for some serious fashion talk.
Eid and fashion are inseparable. We're all eager to be Miss Headturner every year. We plan for our looks for days. We pick everything from clothes to shoes to bags. But sometimes, you lack inspiration.
I know you're waiting for our style guide. However, we should sit down to talk first. Eid is a special time. Therefore, if you fail to get "matching" things, you should always look for something out-of-the-box. Eid is a time for following traditions, but it's also time to create new norms.
A brief over view of what's in store for you.
Down here is your instruction manual on how to glam-up with all the right things this Eid, in the most glamorous outfits presented by your very own Ideas Pret! Even the right outfit can go terribly wrong when your accessories aren't on-point. Every little piece counts! They have a considerable authority to make or break your look.
DIY Festive Looks for a Glamorous Eid!
Eid is all about sophisticated glamor. Your looks have to be festive, yet functional. During the upcoming Eid week, you will be visiting many events. However, you will be a host too. Therefore, you need to strick a balance between pretty and practical.
Look 1: Daytime Glitz
The sun's going nowhere that's for sure unless a family of clouds pay their favorite cities a visit. Well, has the weather ever been a barrier once we decide to glam-up for Eid? Never.
Naturally your outfit's ready-to-wear: courtesy Ideas Pret for making that part of life easy.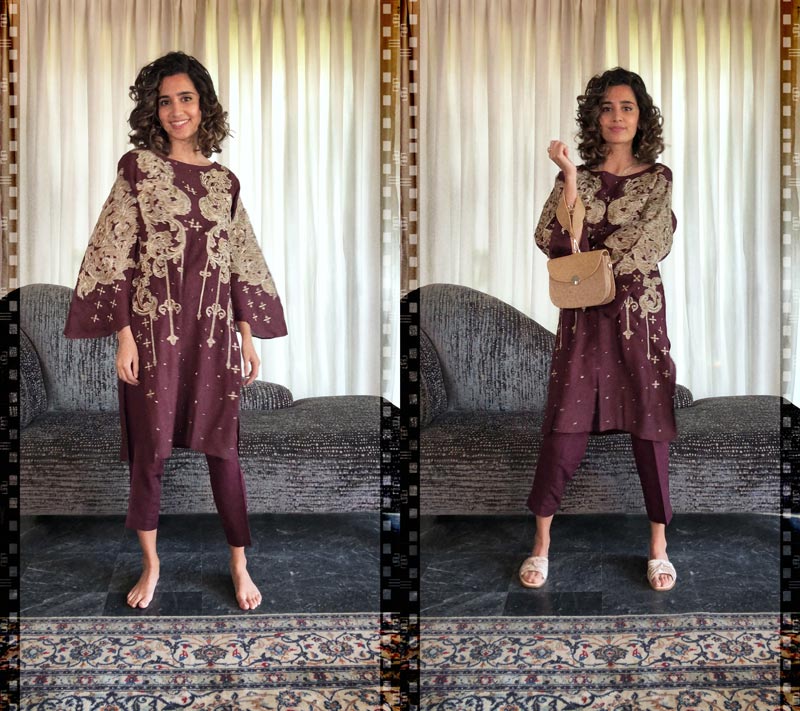 Purple power for that regal allure, with gold embellishments for a festive flair, complemented by breezy cuts and that's a start! You are the canvas here. So let's paint.
Take a slide
Your feet are at your mercy (just like everything else) so be kind to them. On the other hand, you can't just go: "Who's going to be looking at my feet anyways? I'll wear anything that's glittery!" That thought is a killer because your phupoo will notice your bad taste in footwear. She is already making a snarky comment. Well, balance it out!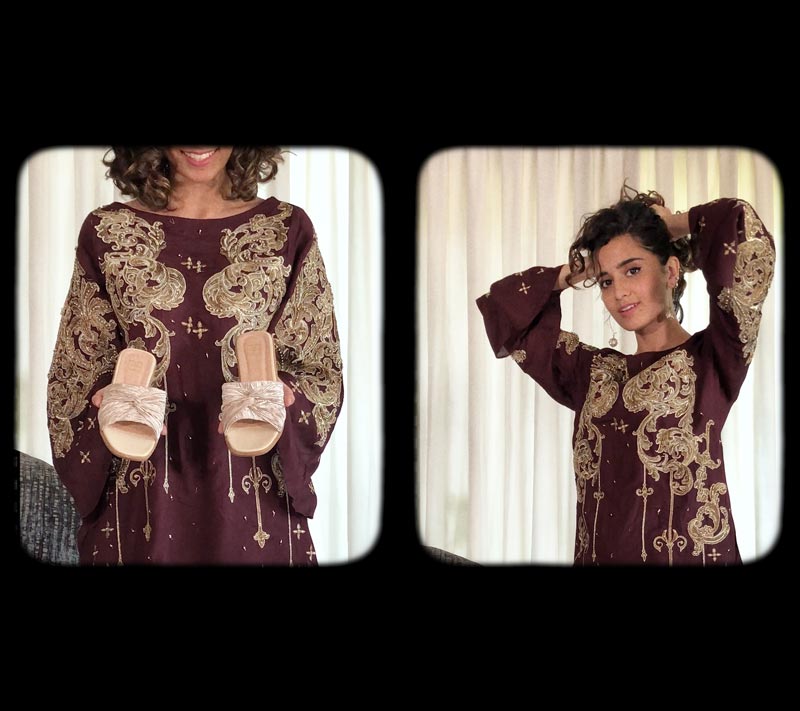 A pair of dull-gold sliders for a subtle glam (comfy and glamorous), that's what I'm talking about! And never give-in to the "you're not that tall so you should wear heels" cliché.
Gold is never old
For the earrings, keeping it elegant is highly recommended. Pick some dangly drops for a graceful, yet chic look.. Remember, our outfit's not the typical traditional attire so no jhumkaas or chaand baalis please!
For some wrist action get hold of some bangles and a watch to bring the glitz together.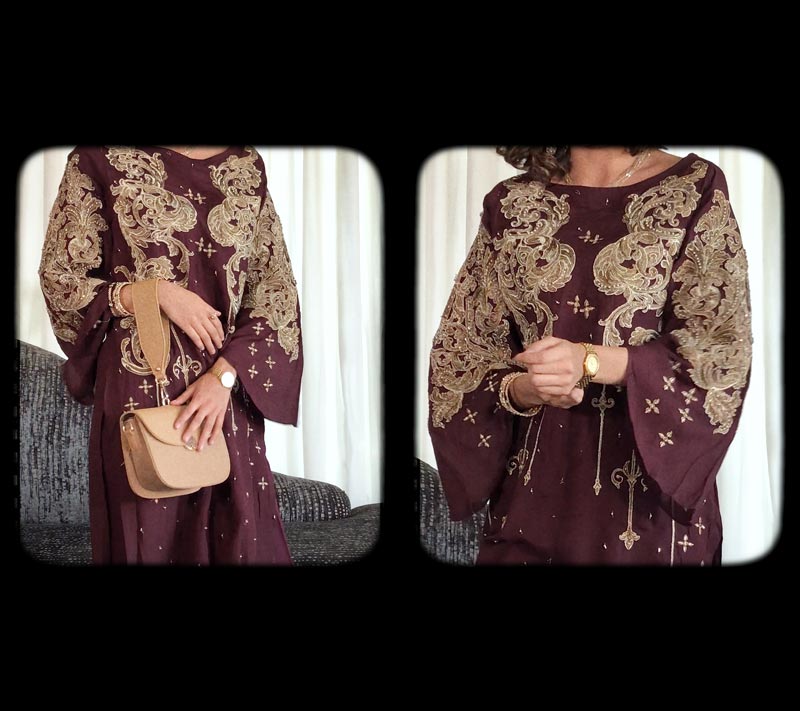 Purse for Perfection
Add an Ideas Pret purse to this mix and Voila! Out you go to beat the sun at its own game *wink*.
Look 2: Out with the Girls!
It's girls time! Lunch or dinner? It doesn't really matter. What matters is you're probably opting for fine dining and that calls for a fine outfit and everything that goes with it.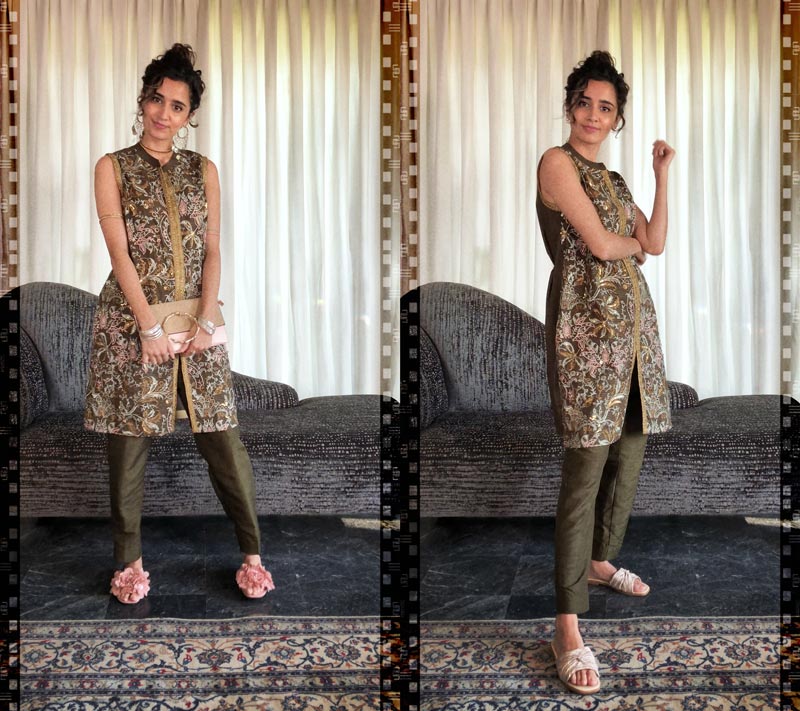 Stick to pastels! A divine green with conspicuous embroideries of silver, gold, and some pink in the blend for a novel touch. An eye-catching composition and contemporary cuts, the perfect recipe for unparalleled elegance.
Pick Pink
Footwear is where you can highlight the delicate pink of your dress that's a bit overshadowed amidst the multitude of hues.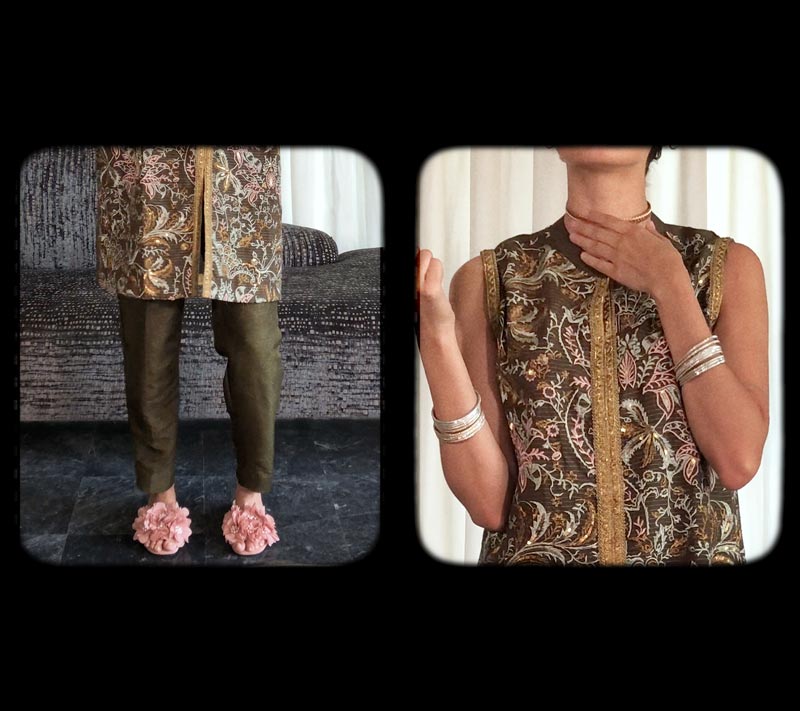 Now, you could opt for the usual stilettos or nude-blush pumps. If you're a daredevil like me, quit being "usual" and strut in these sliders with floral arrangements from yours truly, Ideas Pret.
Silver lining and a touch of Gold
We've got sort of an ideal situation here. Your outfit hosts a bit of both: gold and silver. So you can mix and match your accessories accordingly.
The upside to a sleeveless outfit–apart from that part being my favorite for a summer soiree–is that your jewelry isn't restricted to your wrists. Time to get some style-inspo from Cleopatra. Spruce up your look with an armlet, a choker that complements the theme and some dangling ear pieces. The next thing you know you've got that royal aura encompassing you.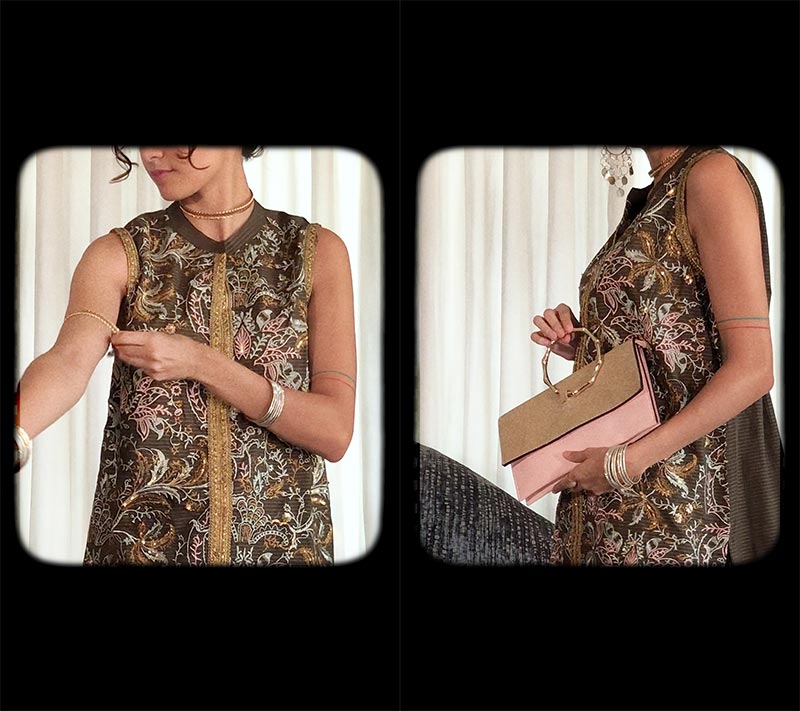 Oh I almost forgot! The final touch to your look: a dainty clutch from Ideas Pret.
Look 3: The Grand Eid Dawaat
That should be the first and last event on your Eid agenda tonight. Everyone else can get another date. I'm sure each one of us is either a hostess or guest to a grand family meetup where four generations of familia break bread (just a metaphor).
For starters you need to break the 2-piece routine and style-up in a 3-piece instead. Don't want your dadi-ma and nani-ma to get offended for not wearing a dupatta, right? Besides, traditional is always trendy.
Beige is the order of the day (or night). Entwined with exquisite embroideries of gold and silver with tassel adornments, this outfit's a stunner in itself and the contrasting black dupatta makes sure of that! Wearing it in your neck is a definite NO. Drape it over, whichever's your usual dupatta-side. 
Specks of Gold
Not too flashy, just keep it trendy. What we've got here is a pair of dull-gold flats. They are very stylish, yet extremely elegant.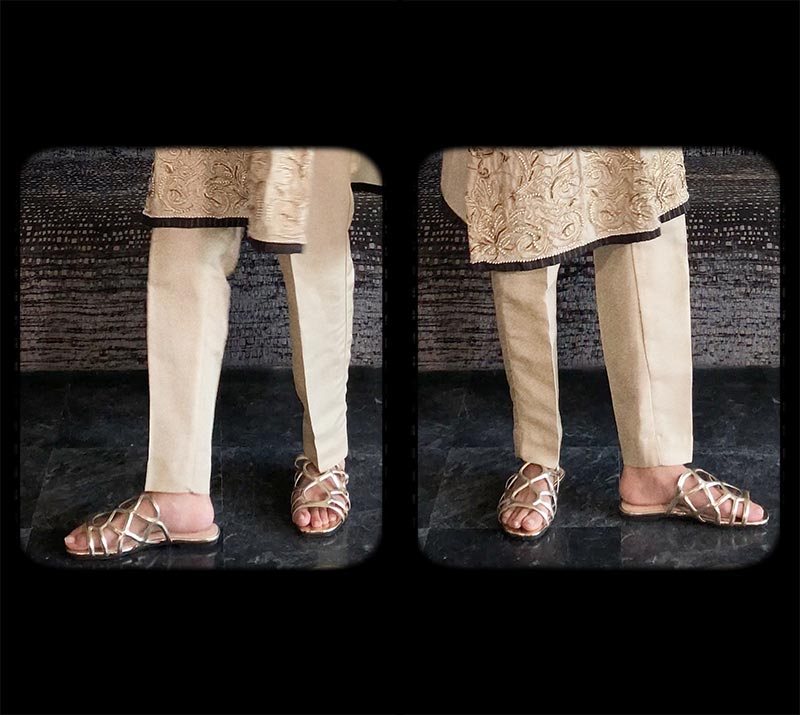 Pearls & Poise
Give those pearls some air. They've been locked up long enough, awaiting the perfect outfit. A string around your neck and a bracelet to match, that'll stir up some more poise to your look!
Look 4: Time for Tea
In Pakistan, everything happens at tea. During Eid, tea is not just tea, it's high tea. I must say this look is my personal favorite! A festive outfit with a contemporary twist. How often do you get that?!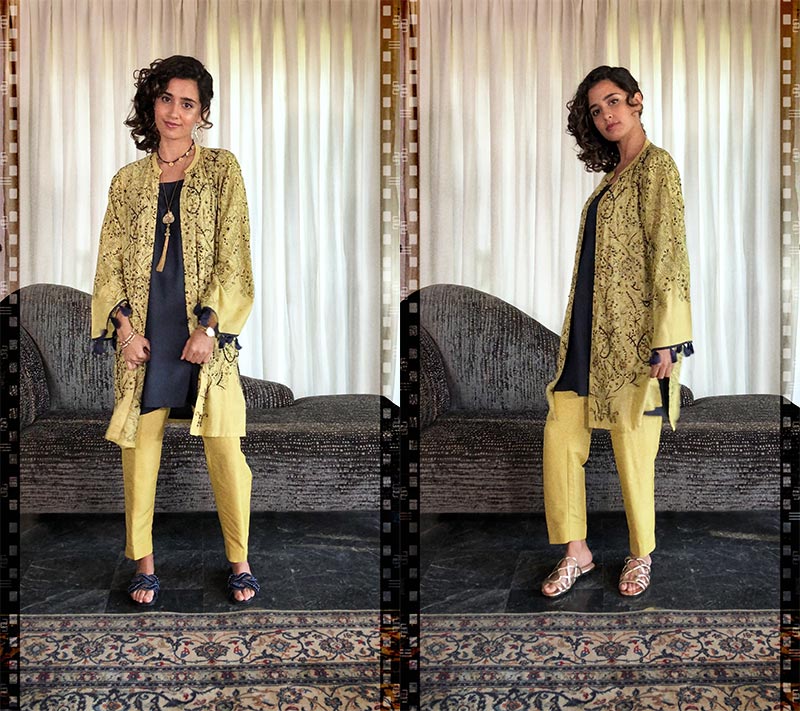 A striking yellow, front-open shrug-style kurti with embroideries inspired from the works of William Morris (your gurl is artistic), raw silk pants to match, and a contrasting blue slip that relates well to the embellishments.
Best in blue
Cautious now with the footwear, you don't want to mess this up! My pick? These blue pearl studded sliders that live up to your "step in style" motto. The pair that's not in your face nor is it too casual to be coupled with a festive outfit.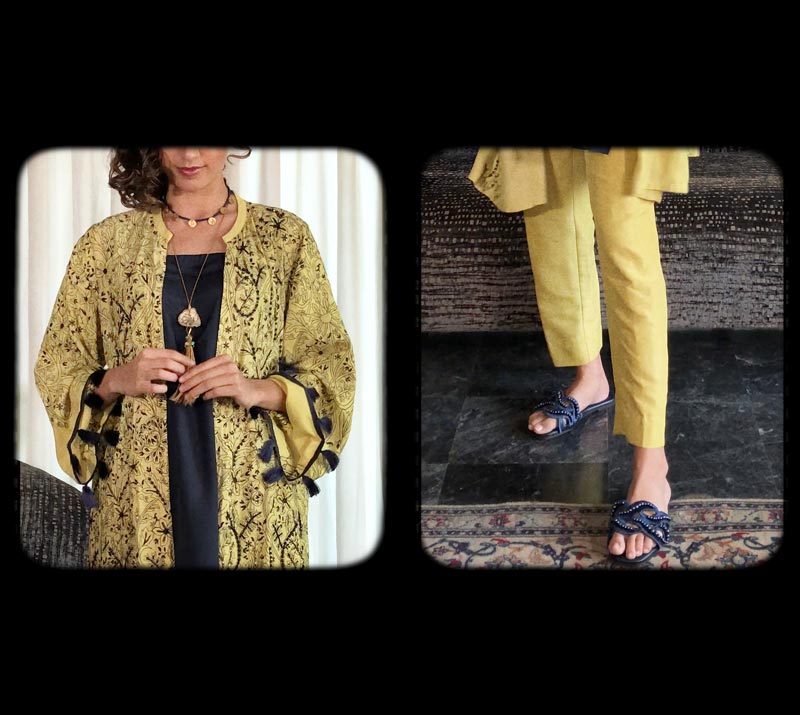 I want all your chic accessories out of those drawers and on your dresser! Every trendy piece you can find with traces of gold and copper but nothing too ostentatious.
Look 5: Traditionally yours
Not everyone's single or married, right? The thought just crossed my mind: what about my girls who're in the engagement phase? Please pay attention to the best Eid look ever: My grand finale for the guide to a glamorous Eid!
This outfit's To. Die. For.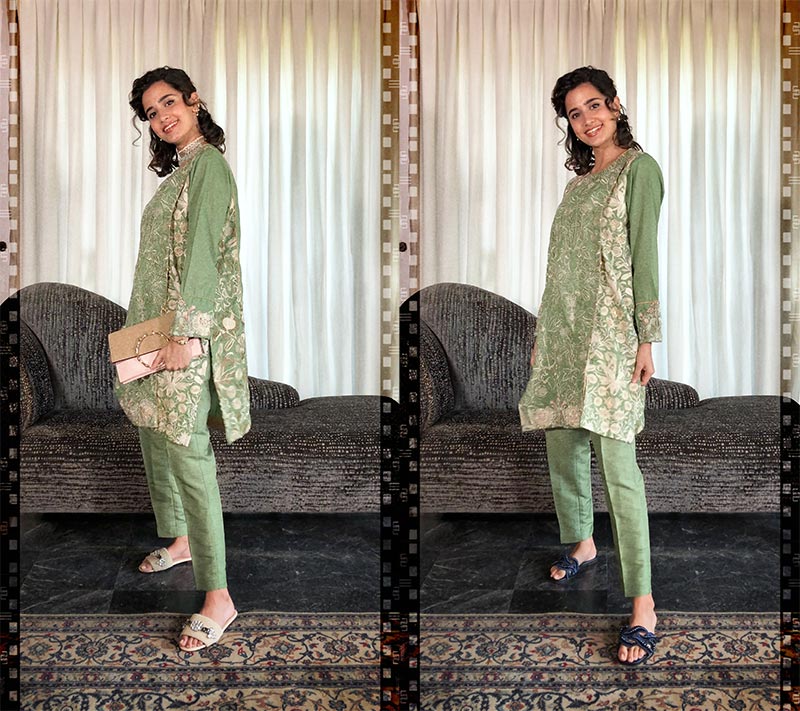 A subtle, mint green showcasing a pastel palette, all in all a very graceful ensemble with endearing silhouettes and an overall very traditional allure. Perfect to impress mom in law.
Slip your feet into these pretty sliders to turn on the glam.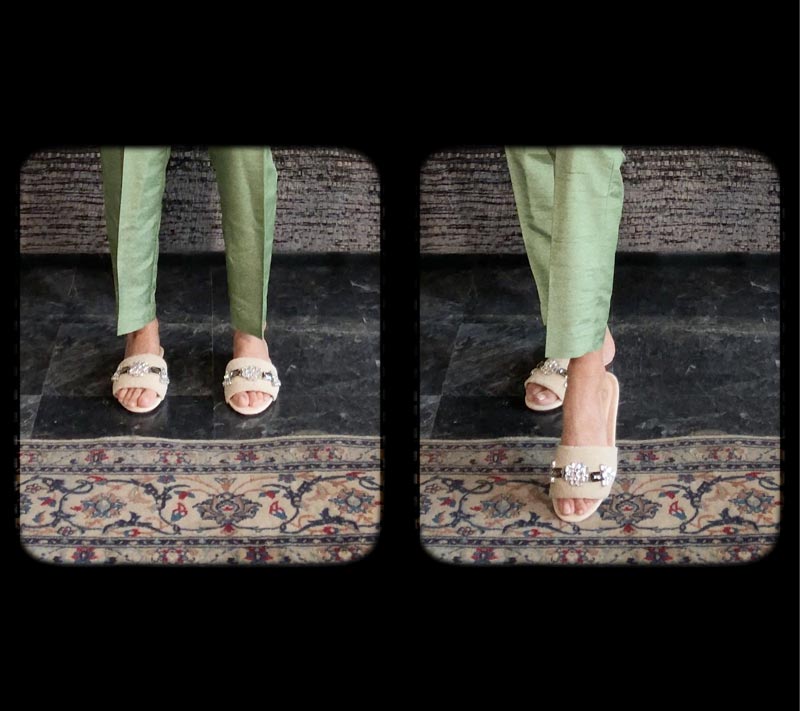 Remember those choker necklaces with dangling pearls? They're back in fashion and there couldn't be a better occasion to try them on! This one's got mint-green pearls attached to a golden string so bonus points if you can get the exact same one.
Live Your Best
Eid is all about being your best self. What your wear is important, but it's also important to feel your best. If you think you can skip the bangles, you should. If you think you will do better without mehendi, then keep your hands simple. Focus on looking good. Create lasting memories. Share your selfies with #ideaspret on Instagram.