Every season is all about refashioning your wardrobe by replacing old ensembles with a fresh feel of new clothes.
Every season, Gul Ahmed reinvents its unstitched fabric designs to reflect the modern fashion trends. This is why Gul Ahmed is loved by women all over the world.
Our unstitched collections fuses ethnic trends with contemporary styles. Each assortment is a blend of captivating tones and eye-catching prints. Topped with elegant embroidery and intricate bead work, every unstitched fabric suit from Gul Ahmed can be transformed into a dazzling dress.
Here is a list of our best Unstitched Collections.
WINTER FASHION COLLECTION
Winter is all about lush fabrics and magnificent designs. This year, excite your sense with Winter Fashion collection from Gul Ahmed containing a wide range of shawl suits. In this cold weater, velvet suits with matching shawl dupatta will you look graceful at any festive event.

CRAFT COLLECTION 2019
Inspired by the beautiful landscape of Northern Pakistan, the Craft Collection is a poetic interpretation of the tribal culture on fabric. With sleek modern designs and chic enhancements, the collection encourages you to explore the unique style of artistic tribal culture. As the temperature slowly dropping, the comfortable khaddar fabric will keep your warm while making you look great. Experience the wanderlust of Craft Collection 2019 now.
BLACK & WHITE COLLECTION
The monsoon season summer brings with itself calls for all the ladies to pull out the trendiest and most chic outfits from your closet. And, to create a fashion style statement this season, there's no better color combination than the classic black and white. White, also known as the mother of sophistication, has the uncanny ability to give you a fresh look, while the black color adds the element of class and style completing your outfit for the day. You can do either, go big on black and reduce the whites or vice versa, either way it would only help you create an impression with your looks that lasts a lifetime.Create monochromatic looks with this year's Black & White Collection 2019.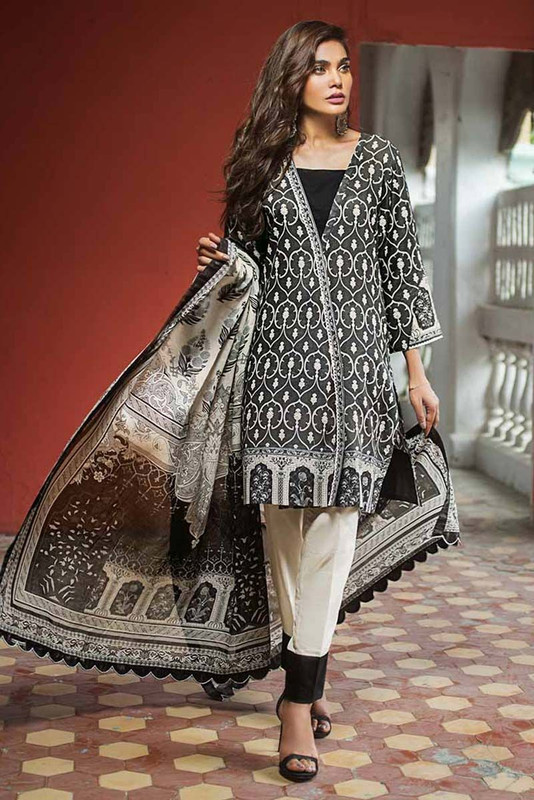 LUXURY COLLECTION FOR EID-UL-AZHA DRESSES
Gul Ahmed's Glamorous Luxury Collection 2019 features a variety of materials including chiffon, silk and jacquard, infused with delicate and intricate embroidery. With a myriad of designs and colors, the Eid-ul-Azha luxury collection is a contemporary take on traditional designs that would give you the perfect look this festive season.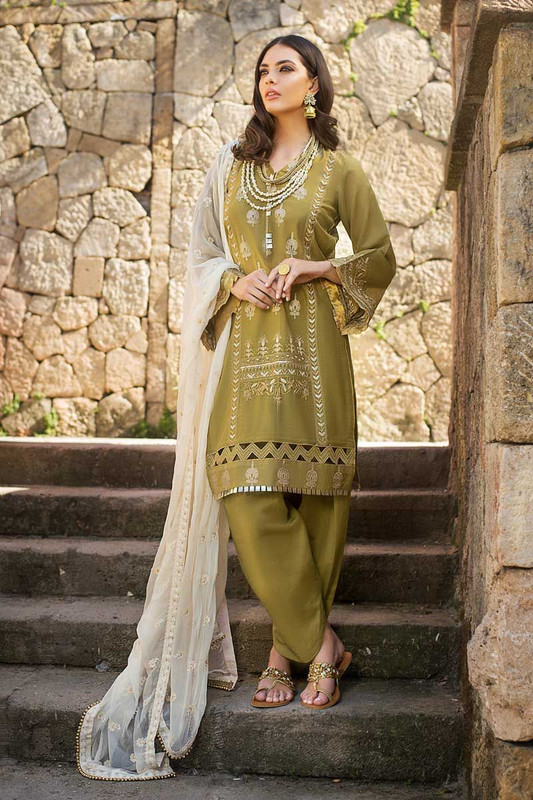 EID COLLECTION
Be the center of everyone's attention with GulAhmed's Eid Collection. When it comes to dazzling fabric designs, this year's collection is a festive fashion extravaganza. Made for celebrating life's best moment, the Luxury Festive Collection brings flambouyant fabrics, luminous prints, shimmery embroidery and beaming diamantes without compromising of comfort and ease. Create opulent looks for unstitched suits of GulAhmed Eid Collection. Available soon.
SUMMER COLLECTION 2019
As the flowers start to bloom across the length and breadth of the country, the wardrobes are emptied for Gul Ahmed's Summer Lawn Collection.
Taking the inspiration from the chic runaway styles of Europe and embracing its fashion forward spirit, we are proud of our Summer Premium Lawn Collection.
Boasting a vast array of premium unstitched fabrics, this year's collection is second to none. To begin with, the Embroidered Swiss Voile compilation consists of beautifully designed unstitched fabric designs with decorative bodice and flowy demeans.
Destined to be a fast favorite, the Premium Embroidered range has an assortment of extravagantly embroidered Chiffon and Net dupattas with printed borders for creating statement formal dresses.
There is a range of unstitched lawn with Silk dupattas in patterns ranging from classic florals to intricate geometrics to suit the summery mood.
For those seeking something airy, yet sophisticated, Luxury Jacquard range combines elegance of Jacquard with stylish chiffon dupattas. Offering the perfect combination of lightness and finesse, the Chantilly de Lace compilation takes it a step further with delicate lace-embroidered Chiffon dupattas.
The stunning melange of vibrant shades and ethereal patterns is certain to draw admiration, making all heads turn. A vibrant medley of colours, exploring local sartorial sensibilities and incorporating innumerable patterns. Gul Ahmed carries their proud tradition of striding forward with a multitude of exciting fashionable fabric in our annual summer collection.
BAGH E GUL SINGLE PIECE LAWN COLLECTION
One of the biggest fashion looks of 2019 is all about flowers. GulAhmed creates local looks on international fashion trends. The single piece lawn suits of Bagh e Gul are created to please women all over the world. The inaugural release of Bagh e Gul 2019 Collection is all about micro florals. The second volume of Bagh e Gul features is a kaleidoscopic mix of fashion-forward floral prints decorated with subtle embroidery.
GYPSY SUMMER LAWN COLLECTION
Embrace the ways of nomadic art with Gypsy Summer Lawn Collection. Celebrate the hot days days of summer with a sense of free-spiritedness. Let the bright colors and bold motif express your inner artistic. Inspired by the vibrancy of Pakistani folk lore, every print inside the Gypsy Summer Lawn Collection is a new chapter of fashion fabrics.
FORMAL BRIGHTS COLLECTION 2019
Specially created for celebratory events, the Formal Brights Collection is the epitome of luxurious fabric designs. With graceful patterns, glitzy prints, and glamorous sequin work, the fashionable fabrics of Formal Brights collection can be used to make statement dresses for all kinds of formal events.
So, what are you waiting for? Adorn yourself with Gul Ahmed's unstitched suits and become a style statement with free shipping all across Pakistan.
CRAFT COLLECTION 2019