Never. I repeat. Never compromise on style!
To be explicit enough, the Holy Month of Ramzan probably beats Eid when it comes to renewing your semi-formal wardrobe.
Invitations pile up traditionally after the first Ashra (10 days) and girls, mark my words: you'll need an iftar wardrobe at the ready.
Worrying won't solve a thing; shopping will! Confused about "what to wear" at "what kind of iftar" party? I'm at your service. Keep reading for some serious fashion guidance.
Formal Look
One fine morning, a message drops in your inbox saying: "Dear team, we invite you all to an official iftar dinner."
The very minute, your mind clocks in: "But that's so last minute, I didn't prepare for this! I have literally nothing to wear."
I feel you. But, when there's a will, there's always a way.
Let's create a checklist:
The Outfit
I'm picturing you in a dark blue and yellow outfit which has "sophisticated and sassy" written all over it. Ideas Pret's Les Morris Collection is a fusion of eastern and western art traditions. For your formal Iftar party, the following dress is perfect: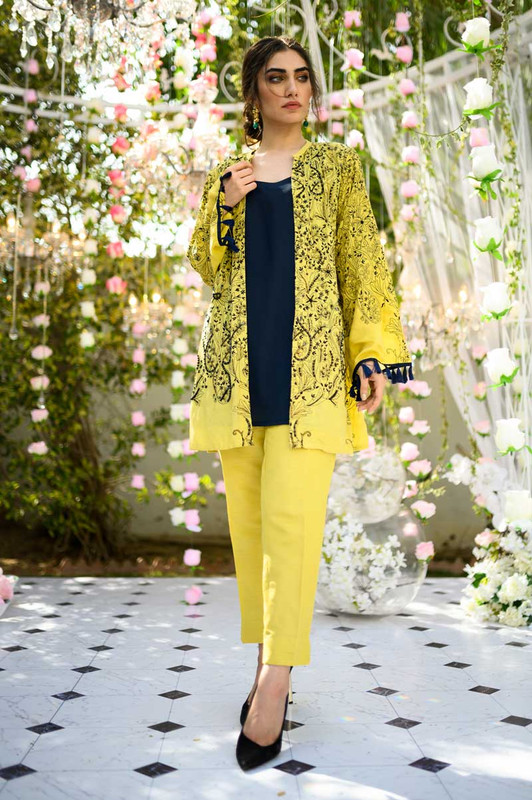 A sunny yellow coat with trousers to match contrasted brilliantly with a midnight blue shirt and delicate embroideries suffused with the same tint. If that won't make the impression you're adamant on emitting, I don't know what will!
The Shoes
Stepping in style was never a choice! Your footwear can honestly make or break your formal outfit. Put on a wrong pair and all that dazzle goes down the drain. I'd say you should go for a pair of blue or black coat shoes or high heeled pumps that complement the hues.
The Bag
To add that finishing touch to your office Iftaar look, pick up a clutch from Ideas Pret's range of glamorous Eid accessories. The black and gold one perhaps? Just remember to not pick up something too ostentatious.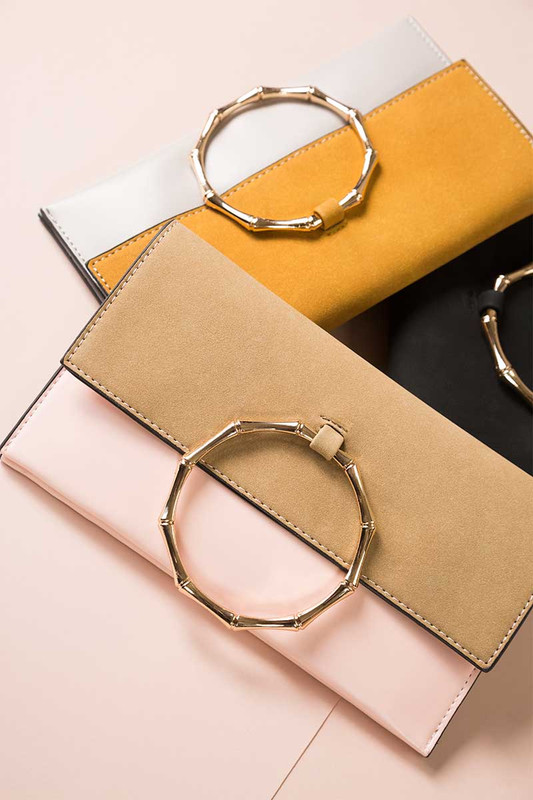 Iftar Dawat Look
Your khala has called you and she wants you to attend her annual iftar dawat where you will be meeting at least 50 people. Obviously, you can't say no because the iftar spread is super delicious. This is how you should dress.
The Outfit
I spy with my little eye something rust with a touch of copper and gold, highlighted exquisitely in fine embroideries and designs inspired from the works of William Morris.(Yes, I am imaginative.)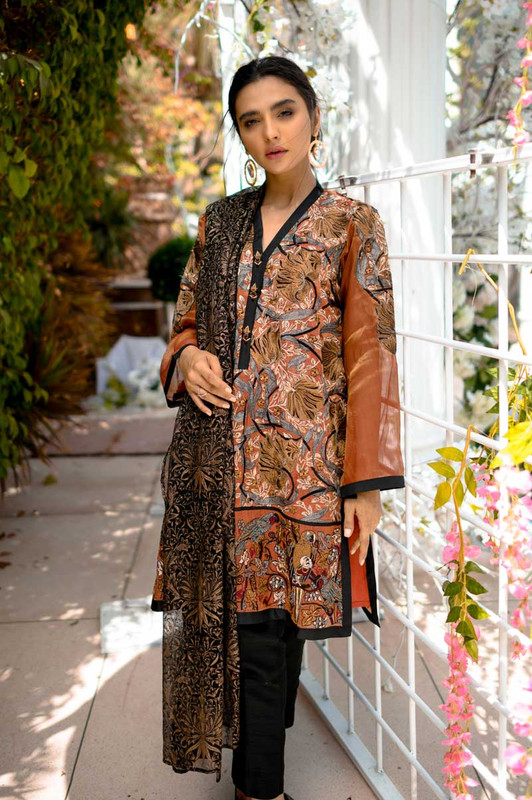 You'd want that dupatta to add a traditional touch to your otherwise contemporary, ready to wear outfit (to impress the buzurgs). To put it in a nutshell, take my word for it, you'll be a head turner in this classy piece by Ideas Pret.
The Shoes
Stilettos or flats? Both can up your game. It's an unsaid rule that a tall woman can pull off flats much better than a "not so tall" lady. Hey, don't let the clichés dictate you. I suggest golden flats or heels with an antique touch.
The Bag
100 points to you if you can get a clutch that twins with those bits of copper and gold in your outfit. A plain black one would do otherwise.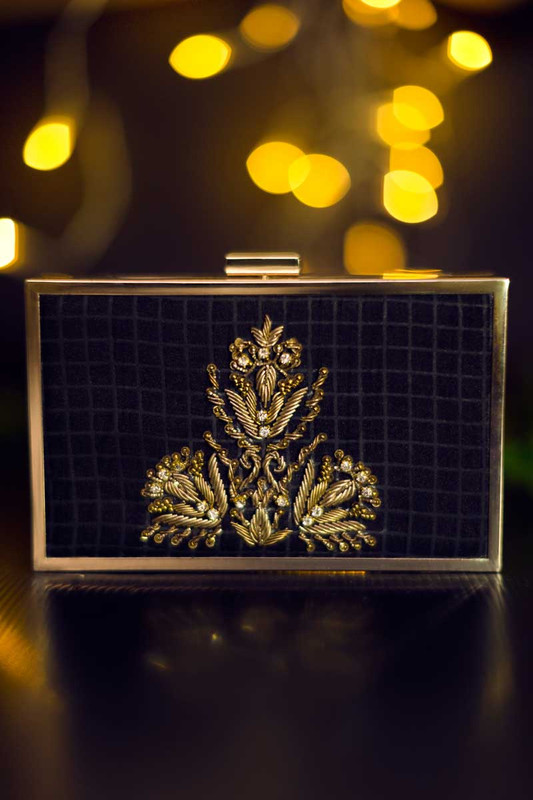 Last Weekend Look
It's the last Friday before Eid. You and your friends have planned to eat at your favorite buffet of this season. At this moment, you want to glam out. Who knows if you'll get time for a Eid Milan dinner or not?
The Outfit
Drift to lighter tones like a graceful beige with maroon highlights. That combo never fails to impress. One such ready-to-wear epitome of elegance can be found within Ideas Pret's Les Morris Collection.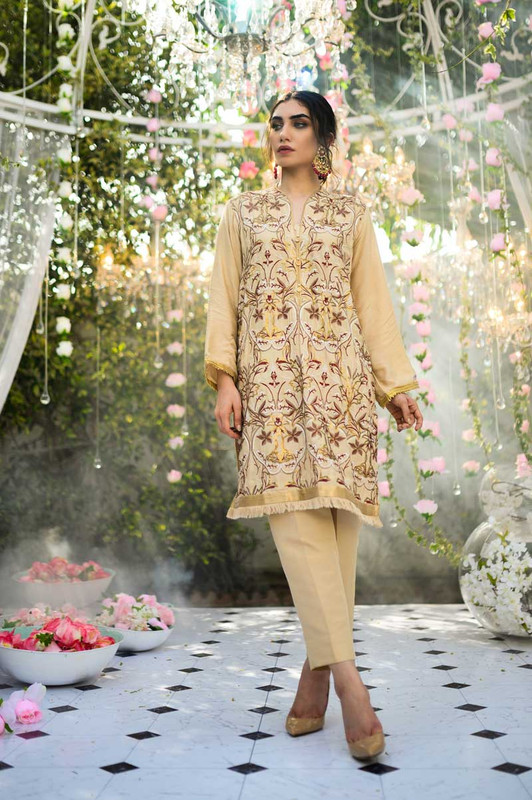 As if the color palette wasn't eye-catching enough, conspicuous embellishments infuse an additional glamor to the outfit.
The Footwear
Balance out the glitz with a pair of plain, maroon stilettos or beige pumps. Keep it subtle down there to not have that "glittering from head to toe" impression.
The Bag
The final touch. Carry a clutch that instills that oomph factor in your look. Grab one of them box style clutches with minimal embellishments, perhaps.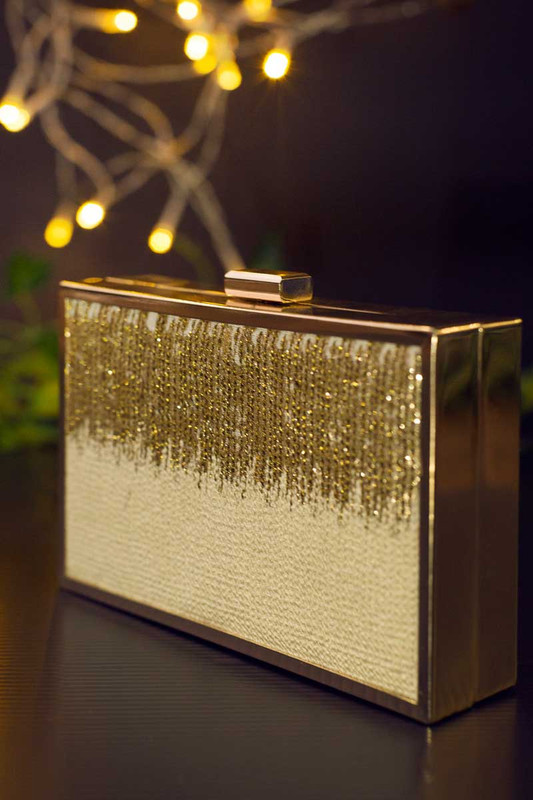 Get your looks now
This Ramzan, Ideas Pret have created special collections for you to wear. While I have shared three distinctive looks here, there are endless possibilites with trendsetting ready-to-wear dresses, modish footwear, and chic bags. Whatever you may get, don't forget to flaunt it on your Instagram feed with #ideaspret. Your friends will thank you.