When it comes to personal grooming, one aspect that truly defines a man's presence is his choice of fragrance. A well-selected perfume can leave a lasting impression and evoke a sense of sophistication and charm.
For men in Pakistan, the search for the perfect men's perfume often leads them to Ideas Fragrance, a renowned brand that has curated a remarkable collection of men's perfumes designed specifically for the modern Pakistani.
Among the plethora of options available in the market, Ideas Fragrance stands out as a brand that crafts captivating scents. In this blog post, we will explore the top perfume options offered by Ideas Fragrance and delve into the unique qualities that make them a favorite among male consumers in Pakistan.
Onyx: Unleash the Irresistible Charisma
Onyx, the crown jewel in Ideas Fragrance collection, exudes a mysterious aura that captivates the senses. This perfume strikes a perfect balance between strength and subtlety, making it ideal for confident and modern men. Its top notes boast a refreshing blend of citrus and bergamot, leading to a heart of lavender and violet, while its base notes are an enticing fusion of amber, cedarwood, and vanilla. The result is a fragrance that leaves a trail of elegance wherever you go, making it perfect for formal occasions and upscale events.
Stallion: Embrace the Spirit of Adventure
For the adventurous souls who seek a fragrance that echoes their spirited essence, Stallion by Ideas Fragrance is the ultimate choice. Bold and invigorating, this perfume opens with a burst of black currant and green tea, reminiscent of a thrilling escapade. The heart notes carry a hint of black tea, adding depth and masculinity to the composition. As the fragrance settles, the warm embrace of musk, incorporating ambergris take over, leaving behind a trail of masculine charm. Stallion is the best men's perfume for those who embrace challenges and seek new horizons.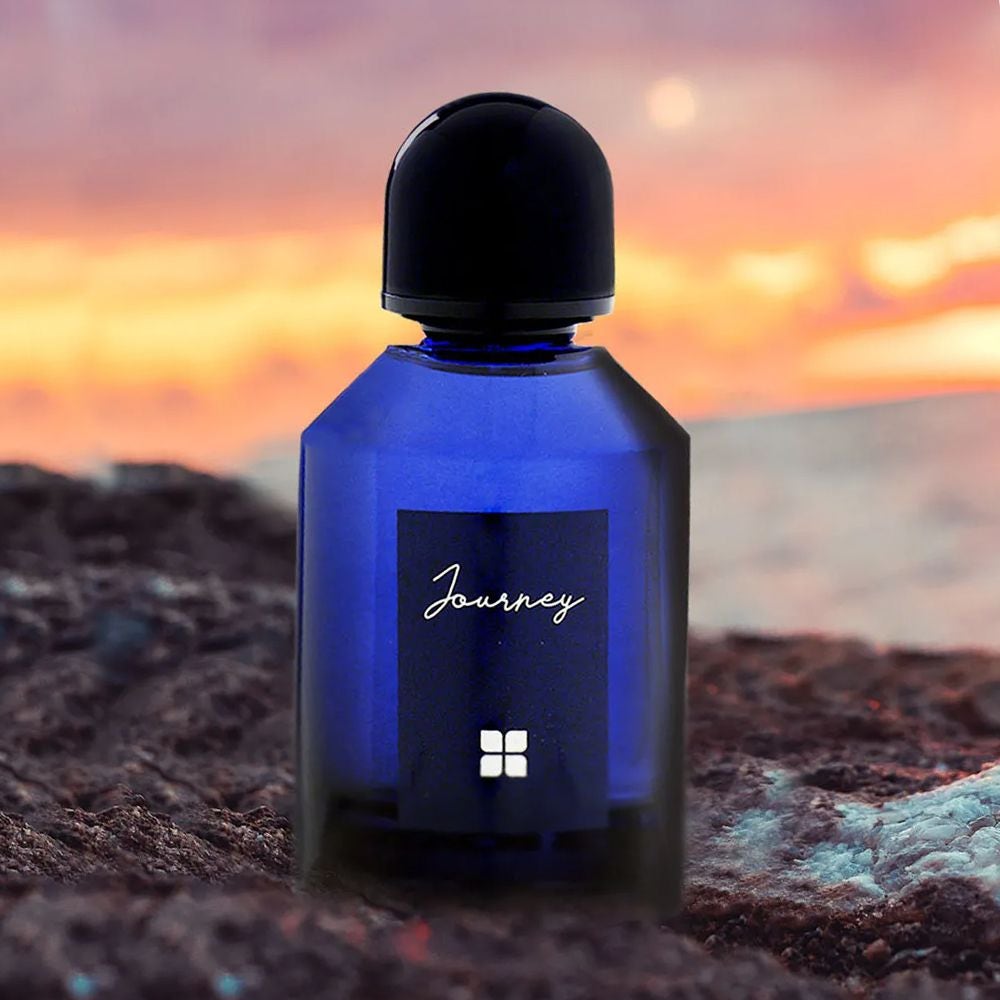 Journey: Embark on a Voyage of Exquisite Sensations
Journey, as the name suggests, takes you on an olfactory expedition like no other. This captivating perfume is an ode to the daring and adventurous spirit of the Pakistani man. The fragrance starts with fresh and zesty notes of lemon and bergamot, instilling a sense of vibrancy. It then evolves into a heart of and iced tea for vibrant freshness. The journey culminates with a rich blend of amber and woody notes, leaving an unforgettable impression. This is perfect for the man who fearlessly chases his dreams and lives life to the fullest.
Centurion: Exude Power and Authority
For the gentlemen seeking a perfume that embodies authority and power, Centurion is an excellent choice. This commanding fragrance for men opens with a burst of citrusy notes, dominated by black currant and pineapple, instantly grabbing attention. The heart notes reveal an intriguing blend of jasmine and birch, infusing the scent with a touch of sensuality. As the fragrance dries down, hints of amber, vanilla and musk emerge, exuding an air of confidence and sophistication. Centurion is the best men's perfume for those who commands respect and holds influence.
Ambassador: Elegance Redefined
As the name suggests, Ambassador by Ideas Fragrance epitomizes elegance and charm. This perfume is a perfect embodiment of refined masculinity. It commences with fresh top notes of mandarin, pepper and bergamot, representing the diplomat's suave demeanor. The heart notes exhale the beautiful essence of violet, orris leather suede adding a touch of classic sophistication. The fragrance concludes with a lingering sense of power fully styrax, cypress, and incense., leaving an enduring impression of elegance and grace. Ambassador is the epitome of class and style, making it ideal for formal gatherings and important occasions.
Choosing the right perfume is a deeply personal experience, and Ideas Fragrance understands the art of crafting captivating scents for men in Pakistan. Each fragrance mentioned above offers a unique olfactory journey, catering to the diverse tastes and personalities of modern men. Whether you seek adventure, authority, elegance, or charisma, Ideas Fragrance has a perfume that will effortlessly complement your style and leave a lasting impression.
Embrace the fragrance by Ideas and redefine your presence with the best perfumes for men in Pakistan. Discover the scent that resonates with your soul, and let it become an extension of your identity, leaving a trail of sophistication and charm wherever you go.
So, explore the world of fragrances for men by Ideas and choose the fragrance that becomes an integral part of your journey, leaving a captivating mark on everyone you meet.